The best from ESC journals in 2022 – free to access
It's like someone has already read every issue and put a sticky note on the best articles! Get a summary of the year's most exciting and top-cited articles from the ESC journal family in a handful of great presentations. They're free to access on ESC 365 for the month of December and cover topics from cardio-oncology and dyslipidaemias, to the digitisation of CV care.


Open access during December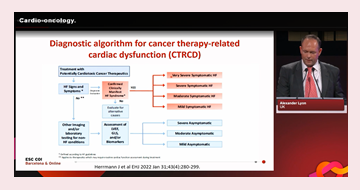 Dr. A. Lyon (United Kingdom)

The EHJ's Year in Cardiovascular Medicine 2022: cardio-oncology, arrhythmias, thrombosis and antithrombotic treatment
Dr. Lyon summarises important recent studies in cardio-oncology, as well as new definitions of cancer therapy-related cardiovascular toxicity published by the International Cardio-Oncology Society. He also shares key epidemiological data on cardiovascular risk in cancer survivors.
Watch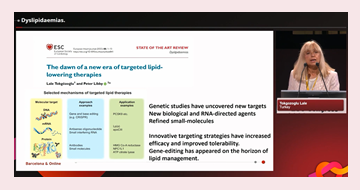 Prof. L. Tokgozoglu (Turkey)
The EHJ's Year in Cardiovascular Medicine 2022: epidemiology and prevention, diabetes and metabolic diseases, dyslipidaemias and imaging
Prof. Tokgozoglu explores the most important studies on dyslipidaemias from the past year. She proposes that we are at the dawn of a new era of targeted lipid-lowering therapies based on the utilisation of nucleic-acid based therapies and summarises pivotal technologies.
Watch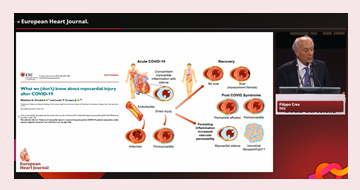 Prof. F. Crea (Italy)

European Heart Journal: The best of the ESC journal family: top-cited papers in 2022
Prof. Crea highlights the role of inflammation in predicting cardiovascular risk after COVID-19 infection, on cardiac pathological alterations caused by the virus, and clinical consequences detectable at CMR. He also touches on collateral damage from the pandemic.
Watch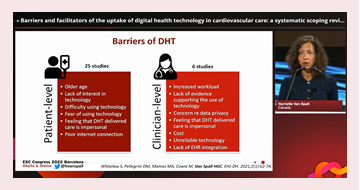 Dr. H. Van Spall (United States of America)

Best of the European Heart Journal – Digital Health
Prof. Van Spall explores the exciting possibilities of digital health, presenting recent literature and her review article, 'Barriers and facilitators of the uptake of digital health technology in cardiovascular care: a systematic scoping review'.
Watch



Prof. A. Baker (United Kingdom)

New frontiers of discovery in cardiovascular research: Targeting acute vessel wall remodelling with novel non-coding RNA approaches
Prof. Baker presents novel interventions to prevent vascular remodelling from RNA to gene therapy. He discusses the Baker Lab, which developed novel interventions to prevent pathological remodelling associated with vein graft failure, including gene therapy using adenovirus to overexpress TIMP-3.
Watch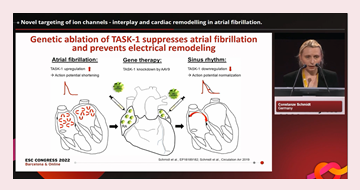 Prof. C. Schmidt (Germany)

New frontiers of discovery in cardiovascular research: Novel targeting of ion channels - interplay and cardiac remodelling in atrial fibrillation
Prof. Schmidt discusses novel targets in atrial fibrillation, allowing for controlling the disease and preventing associated tissue remodelling. Her lab presentation focuses on the novel targeting of ion channels in atrial fibrillation to control the disease and prevent cardiac remodelling.
Watch



Find these presentations valuable? There are many ways you can make the most of the ESC and even be part of this dynamic community yourself. Submit abstracts to ESC congresses, quiz the experts during our live webinars, publish your work in our journals and become a member – to name just a few! Step into your future with the ESC – discover how.

The ESC Team