Your Continued Professional Development – Myocarditis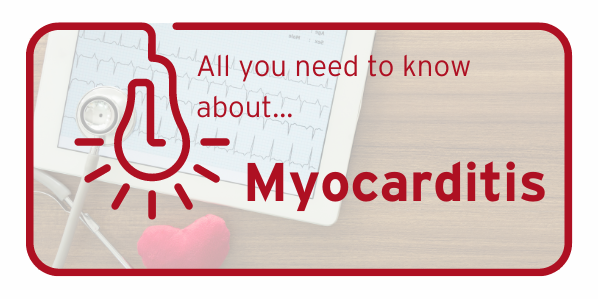 In the last few years, COVID-19 has emerged as an important aetiology of myocarditis, from both direct infection and immune reactions. It has also been connected to a reaction to specific SARS-CoV-2 vaccines.
This makes it an especially timely subject for this Topic of the Month.


Myocarditis is an inflammatory cardiomyopathy with many different etiologies, including infectious and post-infectious, drug induced, autoimmune diseases.

Why take your knowledge further?
Myocarditis has many implications for acute and chronic treatment. It may complicate pump failure and severe heart failure. In addition, life-threatening arrhythmias are one of the potential serious outcomes from this condition.

Diagnosing myocarditis has gained a lot of solid ground recently, with cardiac MRI taking centre stage in diagnosis, risk stratification and prognostic assessment. Explore and learn more about this topic now.
Meet the team bringing you this Topic of the Month
Prof. Ronen Beeri
Prof. Philipp Sommer
Dr. Micaela Ebert

Hadassah-Hebrew University
Medical Center,
Jerusalem (Israel)

Heart and Diabetes Center
NRW,
Bad Oeynhausen (Germany)

Heart Center - University
Hospital Dresden,
Dresden (Germany

Prof. Carsten Tschoepe
Prof. Gheorghe Andrei Dan
Dr. Anna Baritussio
Berlin Brandenburg Center for
Regenerative Therapies,
Berlin (Germany)
University of Medicine and Pharmacy Carol Davila,
Bucharest (Romania)

University of Padova,
Padua (Italy)

Our Diversity Is Our Strength