Heart Failure Policy Summit 2022
data: 26.10.2022 - 16.11.2022
miejsce: Online,
organizator: The Heart Failure Policy Network
Dear Members of the Society of Cardiology of Poland
I am writing to extend a warm invitation to you and all of your members to join this virtual event, which is free and open to all. You can find out more and register here.
As you may know, the Heart Failure Policy Network works to advance political recognition of heart failure, in particular to support national colleagues to secure meaningful and ambitious plans in every country and region. This year, we are hosting our second annual Heart Failure Policy Summit, starting on the 26th October and running into November. Since our establishment in 2015, we have been delighted to collaborate with many heart failure groups and cardiology societies from across Europe.
This year we are honoured to present the first ever dedicated address on heart failure by a European Prime Minister – the Taoiseach of Ireland Mr. Michael Martin TD, as well as over 40 expert speakers from some of the most exciting work in heart failure across the world.
We would be most grateful if you could share news of the summit across your networks. We kindly ask that you forward the email below to your membership, as well as to please retweet key posts on from our Twitter and LinkedIn reach wider audiences.
If this work is of interest or if you think we can support you and other heart failure leaders in your country in future, we'd be delighted to arrange an introductory call.
We very much hope to see you at the Summit, and thank you for your assistance in communicating this event as widely as possible.
With many thanks and best regards,
Ed, Kirsten and the HFPN team

Twitter:
LinkedIn:
We are looking forward to attending the Heart Failure Policy Summit (organised by the Heart Failure Policy Network). The event be held across four virtual sessions from Wednesday 26 October – Wednesday 16 November. The programme includes topics, including: person-centred and integrated care, health inequalities, innovation in early diagnosis, and elevating heart failure on the policy agendas. There are also excellent speakers, such asDr Cristina Bescos, Director of Innovation at EIT Health; and Professor Fausto Pinto, President of the World Heart Federation. Join us and the heart failure community. https://www.hfpolicynetwork.org/project/heart-failure-policy-summit-2022/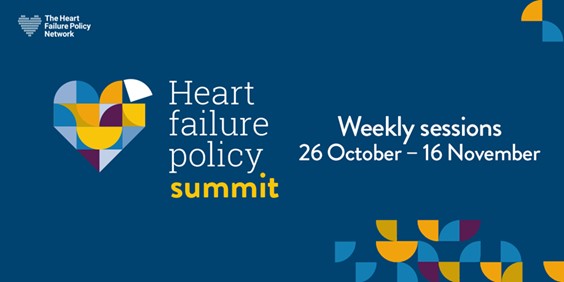 Over 40 influential speakers announced
for the Heart Failure Policy Summit 2022
The Heart Failure Policy Network (HFPN) is excited to announce the full programme of the 2022 Heart Failure Policy Summit, taking place over four online sessions in October and November.

New clinical guidelines and innovation offer hope of improving the lives of the 10 million people living with heart failure in Europe, but only if we can deliver best practice care at an unprecedented scale.

United in the face of this challenge, heart failure leaders in all sectors will come together at the 2022 Summit, the essential annual forum for the heart failure community. We will hear insights from senior decision-makers and discuss the focal topics and knowledge that will define the future of heart failure care.

Over 40 senior patient leaders, clinical leaders and decision-makers are confirmed as speakers for the Summit, including:
The Prime Minister of Ireland, Taoiseach Micheál Martin TD
Professor Giuseppe Rosano, President, Heart Failure Association of the European Society of Cardiology
Neil Johnson, Founder and Executive Director, Global Heart Hub
Veronique Wasbauer, Principal Advisor for Non-Communicable Diseases, Directorate-General for Health and Food Safety, European Commission
Professor Fausto Pinto, President, World Heart Federation
Dr Cristina Bescos, Director of Innovation, European Institute of Innovation and Technology (EIT) Health
Professor Silva Cardoso, Professor of Cardiology, Porto Medical School
Billy Kelleher MEP, European Parliament, Ireland
Professor Héctor Bueno, Researcher, Spanish National Centre for Cardiovascular Research
Professor Martha Gulati, President-Elect, American Society for Preventive Cardiology
Tomislav Sokol MEP, European Parliament, Croatia
Sirpa Pietikäinen MEP European Parliament, Finland
Penilla Gunther, former MP and Founder, FOKUS Patient, Sweden
Dr Jillianne Code, Co-founder and President, HeartLife Foundation, Canada
Professor Tiny Jaarsma, Linkoping University, Sweden and editor-in chief of the European Journal of Cardiovascular Nursing
The sessions will be on the following themes:
Elevating heart failure with one voice: uniting stakeholders to advocate for change – Wednesday 26 October, 13:00 (CEST)

Innovation in heart failure: shifting diagnosis and care into community settings – Wednesday 2 November, 13:00 (CET)

Heart failure, inequality and the world stage: connecting advocates with the global policy agenda – Wednesday 9 November, 13:00 (CET)

Living well with heart failure: moving towards more person-centred, integrated care – Wednesday 16 November, 13:00 (CET)

The Summit is free to attend and open to all. Register now and join the movement to tackle heart failure.